Dublin Airport is incredibly busy considering it is relatively small in size with only two terminals. Travellers are often surpised to learn that Ireland's main airport is not served by a train service, but there are still a lot of options for airport transfer whether you are heading into Dublin city, connecting from the city to other parts of the country or want to head straight from Dublin Airport to other parts of Ireland. Below is a guide to the main public transport services that are available.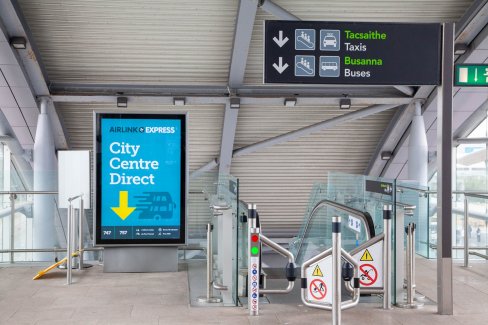 Are there taxi services available at Dublin Airport?
Taxi services are available from Dublin Airport. There are taxi ranks available at both Terminal 1 and 2.
How much does a taxi cost to Dublin City Centre?
The price of a taxi to Dublin City from Dublin Airport is not predetermined at the starting point and journeys are metred, but it generally costs around €25.00 - €40.00. Taxi fares in Dublin are dependent on distance travelled and are metred. The National Transport Authority provide a taxi fare estimator to help estimate the cost of taxi fares. With each additional adult passenger, €1 is added on top of the metered fare, and road-toll charges are added to the final fare as they are incurred.
You can into the city cheaper with Dublin Express or Aircoach for less than €10 one way. Book your tickets here through airlinkexpress.ie.
Do taxis take card and contactless payment in Dublin?
Currently, not all taxis in Dublin take card payments, it is important to check prior to starting your journey.
No cash? Pay with card for Dublin Express and Aircoach online here and fly into Dublin City on Dublin's official airport - city centre link.
How long is a taxi from Dublin Airport to Dublin City?
The duration of a taxi journey from Dublin Airport to Dublin City is traffic dependent, but it should take approximately 35-45 minutes. Queue time at Dublin Airport vary depending on incoming flights - if you are taking a taxi you may have to queue (for up to one hour) while waiting for a taxi.
Is there Uber available at Dublin Airport?
Uber is not currently used in Dublin Airport. If you are looking for private transfers from Dublin Airport, taxis are available at Terminal 1 & 2. Alternatively, the fast and frequent Dublin Express and Aircoach is a sustainable travel alternative from Dublin Airport to Dublin City, with departures up to every 10 minutes..
Is there a Dublin Airport train?
Currently, there is no train to Dublin Airport, though a Metro North is in the early planning stages which would connect Dublin City and Dublin Airport by rail.
Where can I get information on public transport after I arrive?
Please visit the Dublin Airport Bus & Travel Information Desk (located in the Arrivals Hall, Terminal 1).
Where does the Aircoach bus travel to?
Aircoach has a bus service to Dublin City, and many southside locations in Dublin City and County.
Where do I find Aircoach bus stops at Dublin Airport?
Aircoach bus stops are located at Zone 11 at Dublin Airport which is a few minutes walk from Terminal 1 & 2.
Where does the Dublin Express bus travel to?
Dublin Express travels to Dublin City Centre by the port tunnel and can bring to majority of places in the city centre. They have two routes to choose from; 782 and 784.
Does Bus Eireann serve Dublin Airport?
Bus Eireann and Expressway have many routes serving provincial towns throughout the island of Ireland. Tickets can be purchased in advance on the Bus Eireann website
Where do I find Bus Eireann and Expressway at Dublin Airport?
Bus Eireann and Expressway are located at Zones 10 and 11 at Dublin Airport.